News text / Meta description
Finally, states are beginning to negotiate a global agreement on plastics pollution. Plastics pollution occurs at a global scale, so it clearly and urgently requires a global solution. It is an ever-growing problem that embodies the ills of our economic system: Linear production and consumption models based on fossil fueled growth with devastating effects on human health and the environment. A whole lot is at stake in the negotiations. And the time frame is very ambitious. Will states live up to the challenge?
Images of marine pollution have drawn the public's attention to the harmful effects of plastics. Less well-known but arguably more disconcerting is the fact that the plastics we know and use today also include a significant number of potentially harmful chemical additives. Many in the plastics business imply that recycling would be the answer to the problem. But these chemicals make plastics exceedingly difficult to recycle, besides being harmful to the environment and human health. And the manufacture of plastics is steadily increasing. Unless we take action to reduce the output, we will be producing three times as much as we do now by 2060, with unavoidable repercussions.
This is why adelphi-expert Per-Olof Busch argues: "The final agreement on plastics must turn off the plastic tap, or at least turn it down into a trickle. It needs to address the issue of plastics pollution at the earliest possible stage: The upstream sector."
adelphi has been working and researching on the issue of plastics pollution and potential political solutions for many years. To learn more about these, you can find an overview of our experts' key insights as well as selected projects, publications, and media appearances below.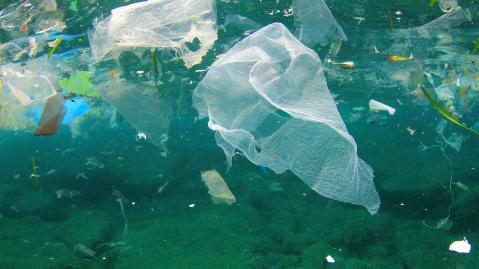 Key Insights: The Plastics Issue Explained
An international conference in the south of Uruguay, in the small town of Punta del Este, marks the start of a marathon of negotiations on an internationally legally binding instrument to combat plastic pollution. Learn more about the plastic problem, the negotiations on an international plastic agreement and the open letter from SWITCH-Asia in this article, which includes an interview with adelphi expert Per-Olof Busch: Start of negotiations on a global plastics agreement
Selected Projects
Plastic issues in Asia: topics, challenges and prospects in a global context
Asia is considered a region of great importance for a successful negotiation and effective implementation of a global agreement on plastics. Against this background, adelphi supports the European Union-funded SWITCH-Asia Sustainable Consumption Production Facility to foster collaboration with key stakeholders in Asia and to raise awareness, build capacity and reach a common understanding of the plastics problem and possible solutions in the region.
Improving international chemicals and waste management beyond 2020
More than 100,000 different chemicals are manufactured, used, and disposed of worldwide. Many of them pose a risk to human health and the environment if not handled responsibly. Nevertheless, only a fraction of these substances is globally regulated. In order to improve the sound management of chemicals and waste, adelphi is working on options for reforming their international governance system. By discussing reform proposals with stakeholders in workshops and side events, adelphi introduces them to the international negotiation process. At the core of the reform discussions is the Strategic Approach to International Chemicals Management (SAICM).
Selected publications
Analysis of Upstream Economic Opportunities from change in the plastics life-cycle
Successful and effective responses to plastic pollution require initiatives, actions and activities that embark on a transition towards a more circular plastics economy. In this transition, companies in the upstream sector of the plastics value chain (plastic producers, manufacturers, commercial buyers) can assume great responsibility and benefit economically. This paper elaborates on how they can do so.
Identifying Solutions to the Plastics Challenge: A Practitioner's Briefing on Key Approaches
Much has been written about what a global agreement on plastics would need to do and how it should be designed. This practitioner's brief, by contrast, lays out more hands-on solutions to the plastics challenge.
Plastics Use and Management: An analysis of the current status in Kyrgyzstan, Maldives, Nepal and Sri Lanka
Over the next two years, states will work out the details of how best to design a strong plastics treaty that is able to account for different national circumstances. How different such national circumstances can be is shown in this collection of country profiles, which illustrates the diversity of the Asian region.
Reflections on a Global Agreement on Plastics
This paper summarises four key issues of global plastic governance: First, gaps in existing regulations and the lack of a holistic approach that includes the entire life cycle of plastics; second, the current unsustainable linear production and consumption model; third, knowledge gaps and scientific uncertainties and the need to improve exchanges between scientists and policymakers; and fourth, the need for a financing mechanism under a global agreement. For each of these issues, the paper highlights points that require special attention in the upcoming negotiations.
Advancing SCP Policy in the Tourism Sector: Responsible Plastics Management in the Maldives
This report provides details on potential actions that can be taken to improve the waste and plastics management in the Maldives. Its recommendations aim at establishing data collection systems, policy instruments, improving capacity and waste management infrastructure, and implementing an Extended Producer Responsibility (EPR) scheme for plastic packaging in the country.
Global agreement to prevent plastic pollution – Exploring financing needs and opportunities
A crucial issue in the negotiations of the plastics agreement and an essential condition for its effectiveness will be the availability, mobilisation and delivery of financial resources. This study serves to inform decision-makers and other interested actors about options for a basic financial framework as well as different mechanisms for mobilising and delivering financial resources from public and private sources at national and international levels. The Nordic Council of Ministers has tasked adelphi with this analysis so that negotiators can use its recommendations in the further multilateral decision-making and negotiation processes.
Small Island Developing States and plastic pollution – Challenges and opportunities of a global agreement on plastic pollution for SIDS
This study outlines the particular challenges, needs and opportunities of small island developing states (SIDS) in the context of a global agreement on plastic pollution. They have so far been neglected in related debates. The study also provides options for SIDS to effectively voice their interests in the negotiations.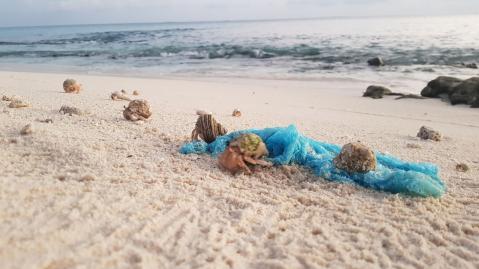 A binding global agreement to address the life cycle of plastics
In this article published in 2021 in the journal Science, adelphi-experts and other scientists identified three core goals and a number of supporting measures that would make the intergovernmental agreement on plastics effective.
Strengthen the Global Science and Knowledge Base to Reduce Marine Plastic Pollution
In the context of the negotiations on a global plastics agreement, scientists, policymakers, and stakeholders voiced requests for strengthening and improving the knowledge base. These requests often include demands for an interface between science and policy, such as a scientific advisory body. This body should also inform policies against plastic waste in the oceans and the need for a life cycle approach to marine plastic pollution that covers all stages in the plastics life cycle. This report, commissioned by the Nordic Council of Ministers, makes the case for such a body and discusses the conditions to make it work effectively towards increased knowledge on marine litter and microplastics.
In the media