News text / Meta description
In the south of Uruguay, in the small town of Punta del Este, the first meeting of states will take place at the end of November, marking the start of a marathon of negotiations on an internationally legally binding instrument to combat plastic pollution. adelphi explains why this is so important.
Plastic pollution is an ever faster growing problem that requires timely and far-reaching action. Harmful impacts of plastic use and plastic pollution on human and planetary health is an urgent topic that also epitomises current linear economic models based on fossil fuelled growth, and where externalities of products and businesses are borne by society.
The urgency of tackling plastic pollution was acknowledged at the fifth session of the United Nations Environment Assembly (UNEA 5.2) in Nairobi, when states issued a resolution to start an intergovernmental negotiation committee (INC), with the aim to negotiate a global legally binding agreement to end plastic pollution. During the INC process, which is scheduled to be concluded by December 2024, states will need to decide how best to design an agreement that tackles the entire lifecycle of plastics to prevent pollution.
SWITCH-Asia's Open Letter
SWITCH-Asia's SCP Facility aims to strengthen the implementation of national policies for sustainable consumption and production (SCP, SDG 12) in Asia and Central Asia. SWITCH-Asia is the largest programme funded by the European Union (EU) to promote SCP in Asia.
The SWITCH-Asia SCP Facility has launched an engagement project in November 2021 which supports a better understanding of the perspectives of SWITCH-Asia stakeholders and partners, particularly governments, on plastics and a potential Global Agreement. Through outreach, awareness raising and capacity building it facilitates an emergent shared understanding of the plastics challenge. The project thereby seeks to use the window of opportunity provided by the preparatory phase of a potential Global Agreement to increase momentum around solution-finding together with SWITCH-Asia stakeholders.
Learn more about the plastic problem, the negotiations on an international plastic agreement and the open letter from SWITCH-Asia in the following interview with adelphi expert Per-Olof Busch.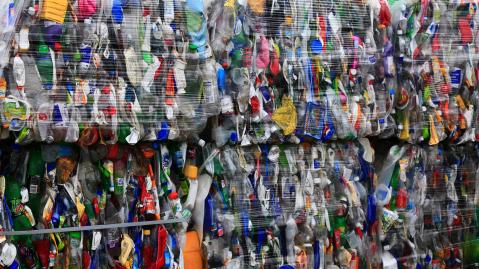 Interview with adelphi expert Per-Olof Busch
Why is finding ways to solve the plastics challenge so important?
We all have seen pictures of marine animals like sea birds or whales, who suffer from ingestion or entanglement of plastics. And of course, that is a big problem. What is less visible but perhaps way more problematic by comparison, is that the plastic we know and use today, also contains a large number of potentially dangerous chemical additives. While industry is very good at suggesting that recycling would be the solution to the plastics challenge, these additives make the plastic very hard to recycle and are harmful to human health and environment. In addition, plastics production continues to grow. If we don't act to curb this production, we'll be producing three times as much as we are today by 2060, leading to intolerable consequences in terms of pollution and in terms of GHG emissions. We cannot rely on increased waste management, because even in developed countries, the systems today are already overwhelmed with the sheer mass of plastic waste. This is why we need to tackle the entire life cycle of plastics, from production to manufacturing to use, reuse, repair, recycling and so on and so forth. In a way, plastic pollution is a manifestation of how cheap fossil fuels lead to destructive consequences, even beyond climate change.
Why is an international governance process required?
This is clearly a global matter, as plastics pollution is happening at a global scale. Currently, there is no global instrument to tackle the issue in a legally binding manner across this lifecycle. There are some legally binding agreements, mainly from the 1970s and 80s, but these focus on the marine environment and their pleas to industry to stop polluting were not effective. It has become clearer since then, that dumping at sea is only responsible for a fraction of the plastic that is found in the oceans. Since the year 2000, there have been a number of voluntary agreements that aimed at land-based sources. Their aim was therefore much better targeted at the production side, to plastics-based or using businesses, like the food and beverage giants Coca-Cola, Pepsi or Nestlé and local competitors. But evidently voluntary approaches insufficient, because the single-use plastic proliferation in consumer products has all but increased and the amount of plastic that is entering the sea has continued to increase. The approach that was set off at the UN Environment Assembly in February 2022 is a recognition of both: that we need to look at the land-based sources, preferably at the entire life cycle of plastics, and that it needs at least some legally binding commitment.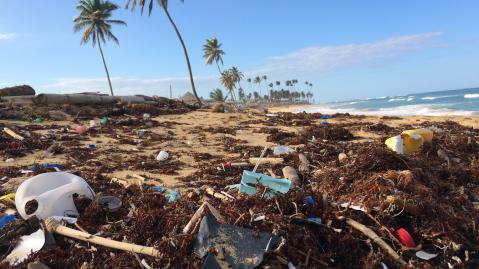 SWITCH-Asia published an open letter on plastics that you facilitated. What did you learn from the process?
Even though it may seem obvious, for us, it was most striking how different national circumstances are in the region and how they materialise in discussions about possible solutions. I'm not just talking about economic situations. Just look at the fact that the region consists of land rimmed as well as island states. These would face very different challenges and therefore set different priorities. While for one country, plastics washes up at beaches, the other would probably have a problem with clogged waterways and related flooding. Other countries have industry sites of large polymer producers, like China, India and Thailand, or they manufacture plastics-based products and therefore benefit from the plastic production economically. In other countries, plastics is imported only and they are therefore stuck with managing a problem at the downstream. The instrument will need to make sure that different interests are considered, but also needs to prioritise the wellbeing of the majority of countries and people.
This relates to issues that are shared across Asian countries, and actually across regions, because it is always difficult to bring about change in a system from which profit is being made by powerful players. Other shared challenges relate to a lack of knowledge and data. We hope that even the current negotiation process will accelerate this exchange, but much more will need to be done in the future. The same holds true for innovations. When it comes to economics and changing the industry, we urgently need to decouple economic growth from plastic production and consumption. And even though, I mentioned earlier that recycling is not THE solution to the problem, it is definitely part of the package. But for this to actually take hold, industry needs to ensure that they make the products practically recyclable. THEORETICALLY, every product can be recycled. The question is just: at what cost in terms of energy use and workers' time, and into what? If we end up with highly contaminated materials, these cannot be used for the majority of products that we would need materials for. Concepts like "extended producer responsibility" (EPR) – meaning that we make companies responsible for their products beyond the point of sale – also can play a part in this.
What can people, organisations and governments do to get involved?
The INC-Process is a state-led one. This means that non-governmental stakeholders are not part of the negotiations. However, at the upcoming meeting in Punta del Este, a Multi-Stakeholder Forum is going to take place with the aim of collecting the views of stakeholders on specific issues and actions. These will be presented to the negotiators on the second day of the negotiations. Negotiators will need to decide how best to continue such stakeholder engagement. What civil society can always do is hand-in papers and positions as Informal documents (INF documents). Also, it is possible to get together with stakeholder groups to make these voices heard. In addition, I would recommend to get in touch with your government. Inquire what action is taken, offer background information on the issue, demand them to act. For Governments, I would strongly suggest to be part of the INC. If not in Punta del Este, then at one or all of the upcoming INC meetings. Make sure that the agreement is considerate of your national circumstances. Do not let this agreement be decided by someone else, or the most powerful players. Systemic change is hard to initiate, but once there is a shared understanding of the challenge, it gets easier – we know this from previous international governance processes. A further side note: be prepared! There are a number of excellent and highly relevant papers provided by the INC Secretariat. These papers tell you what to focus on and what to keep in mind.
What is your expectation or hope for this first INC and the process?
This is the first meeting of the INC, so we'll see discussions on very basic issues, both content-wise, but also in terms of process. The UNEA Resolution sets out a number of elements that should be considered by the INC. However, not all states necessarily share the same understanding of what these mean and if or how these should be covered by the agreement. Focus areas need to be derived and negotiators will need to set out to define a process for the upcoming meeting. What should be discussed when and in what form? It is very common that so-called contact groups are established to allow progress on several issues at once. It would be important to decide what topics these groups should cover. We are very excited to follow the negotiations and see what direction the ship will be taking. Ultimately, I hope that the outcome of the final agreement turns off the plastic tap or turns it down to a trickle. It needs ambitious objectives, targets and measures that address the issue of plastic pollution at the earliest possible stage: the upstream sector with fossil fuel companies, polymer producers, and manufacturers. Only improvements and expansion of waste management is certainly far from enough to end plastic pollution.
---
Contact: busch

adelphi [dot] de (Dr. Per-Olof Busch), Senior Researcher at adelphi