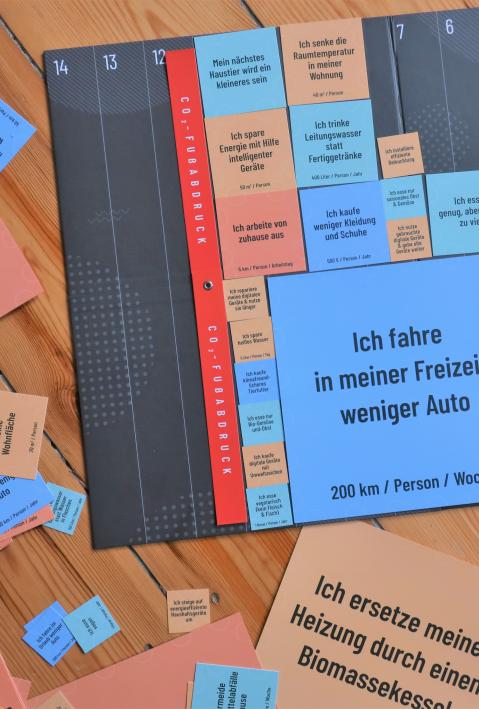 News text / Meta description
With the "1.5 Degree Lifestyles"-project, the EU wants to make lifestyles mainstream that allow us to limit global warming to no more than 1.5 degrees Celsius. adelphi is now inviting people to the first Citizen Thinking Lab to find out more about citizens' attitudes to the topic.
Would you leave your car at home and use public transport instead? Could you imagine living in less living space than you do now? Would you consider vegetarian alternatives for your diet? Where do you draw your personal line? What would have to happen in society, politics and the economy to make you reconsider your decision?
Citizen Thinking Labs are workshops with citizens in which all these questions are to be discussed. The researchers want to think about low-emission lifestyles together with the participants and talk about which of them are acceptable to them and which are not – and above all why not. The focus will be on the topics of nutrition, housing, mobility and leisure. The aim of these "thinking labs" is to scientifically test the public acceptance of drastic but necessary changes.
Gaining insights playfully
Among other things, this will be done playfully. The participating citizens will try out a board game specially designed for the workshop by the Finnish project partner D-mat: the "climate puzzle", in which they can find out step by step how they have to adapt their lifestyle in order to reduce their CO2 footprint to 2.5 T CO2 equivalents by 2030. To put this into perspective: according to Statista, the average person in the world causes around 4.7 tonnes of CO2 emissions per year (as of 2019), and each German is responsible for more than twice as much CO2 on average.
Each participant learns about his or her personal carbon footprint, which is determined beforehand by a survey. Thus, the players also know where they have to move on the board in order to finally reach the goal: a climate-friendly lifestyle. The climate puzzle puts the results of the lifestyle into perspective with regard to the CO2 footprint and offers around 50 sustainable measures to reduce it. Participants decide for themselves which are personally acceptable and relevant to them and sort them accordingly. This is followed by a discussion round to evaluate the game results on the one hand and on the other hand to find out under which conditions they would adopt previously rejected sustainable lifestyles after all.
Thinking labs in five countries
Besides Germany, the Citizen Thinking Labs also take place in Sweden, Spain, Hungary and Latvia. However, the anonymised research results will later benefit all people in the EU. This is because they form a central part of the analysis of pathways and strategies for 1.5 degree lifestyles. With this innovative and interactive approach, adelphi and its partners are investigating what helps or hinders households on their way to 1.5 degree lifestyles. In addition, political, economic and social framework conditions that enable or constrain sustainable lifestyles will also be scrutinised.
On 24 September 2022, the first round of the Citizen Thinking Lab will take place in Berlin with around 22 people.
---
The EU project 1.5° Lifestyles takes place in collaboration with researchers from Finland, Germany, Hungary, Latvia, the Netherlands, Spain and Sweden. It is funded by the European Union's Horizon 2020 Research and Innovation Programme (funding number 101003880) and contributes to achieving the global and EU climate targets set out in the Paris Agreement and the EU Green Deal.
Contact: tornow

adelphi [dot] de (Maren Tornow) und domroese

adelphi [dot] de (Lena Domröse)