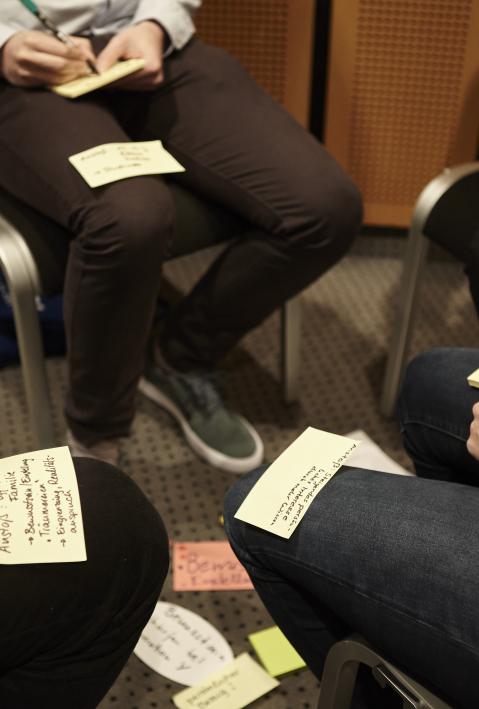 News text / Meta description
Motivating people to behave in a more energy- and environmentally-conscious manner presents a methodological challenge for climate protection actors. The 'National Top-Runner-Initiative' is supporting this effort through offering eight free methodological workshops. Applications are now open.
Which seminar methods are available to sensitise citizens to climate-aware behaviour? How can one design workshops in a way that allows participants to reflect on their own behaviour and trigger willingness for climate-conscious behavioural changes? Local climate protection actors across Germany are facing this exact challenge. The methods workshop "Energiewende im Kopf" is using this as a starting point for eight free workshops. Municipalities and districts can submit their applications until 30 March 2019.
Learning by Doing – structure of the practical trainings
The methods workshop "Energiewende im Kopf" is an interactive full-day training that presents tried-and-tested workshop methods. Using the "learning by doing" approach, the workshop is presenting these methodologies and allowing participants to practice implementing them. Participating climate protection actors can therefore gain insights for their own education and consulting work through experiencing and reflecting on these methods. The training is targeted towards representatives from educational and consulting institutions for adults in the issue areas environment, energy, and climate.
Organisation of the free workshops
The 'National Top-Runner-Initiative' (NTRI) gives municipalities and districts the opportunity to support local climate protection actors through offering free methods workshops. The host institution is responsible for identifying and addressing suitable participants. adelphi and the EnergyAgentur NRW are jointly preparing and implementing the workshops. The NTRI is an initiative from the Federal Ministry for Economic Affairs and Energy (BMWi). More information on the NTRI is available in German at: www.machts-effizient.de/ntri.
Applications are open until 30 March 2019. Further information about the methods workshop and the application process can be found in the German flyer.
Contact Gunnar Will for further information.