News text / Meta description
20 years ago, SEED was founded. Since then, the global partnership, for which adelphi is the project sponsor, has been promoting sustainable development and the green economy worldwide.
SEED was launched by UNEP, UNDP and IUCN at the World Sustainable Development Summit in Johannesburg with the aim of promoting entrepreneurship for sustainable development. At the time, there was little attention paid to Small and Medium Enterprises (SMEs) and their role in delivering sustainability.
Ever since, SEED has set out to increase awareness and to advocate for the recognition of the critical role played by SMEs as a key pillar for development, social cohesion and environmental protection. As a sub-group of SMEs, eco-inclusive enterprises specifically focus on providing socially inclusive and environmentally sustainable impacts through their business activities. They similarly include low-income and vulnerable groups in their value chain as employees, suppliers, distributors and consumers.
Success stories through global partnerships
Over its 20 years, SEED has supported over 2,000 enterprises and trained more than 500 business development providers across 41 countries, as well as engaged with 950 organisations in Latin America and the Pacific, Africa and Asia. SEED has continued to demonstrate the need and value of such global partnerships and has applied a constantly evolving approach to respond to the needs of SMEs at different levels of progress and in different ecosystems, learning by doing and co-creating with concerned stakeholders for a collective impact.
"The time to "Act Local" in the context of "Think Global, Act Local", has received urgent attention from global conferences. The last 20 years have shown that this can only be done at the community level and with SMEs moving from the edge to the centre of green climate actions and sustainable development—thus driving green and circular economy, enhancing responsible consumption and production patterns, delivering resource efficiency and ecosystems resilience", SEED Executive Director Arab Hoballah says.
"From Impact to Scale"
SEED strives to replicate success stories, induce further innovations and scale up for long lasting transformative impacts. To achieve this, SEED will release a SEED 20 Years Flagship report series "From Impact to Scale" and will also participate in various high-level events throughout 2022, such as Stockholm+50 and COP27. Celebrations are also planned in Germany, among others together with adelphi, and in other countries around the world where SEED is currently active.
Building on 20 years of experience, the team at SEED sees the next two decades as an important period where there is an opportunity not only to consolidate the successes and lessons learned, but also as a chance to use its experience, networks and partnerships to support eco-inclusive enterprises to scale for a more impactful and transformative change.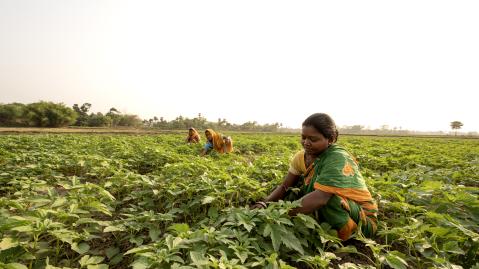 adelphi and SEED
adelphi is responsible for the overarching project coordination and for carrying out the SEED Programmes. Within the framework of the project sponsorship, adelphi continually assesses the progress and the social and environmental effects of the project activities as well as the success of SEED Award winners. adelphi compiles the results in case and sectoral studies and in yearly reports.
Visit the SEED website to find out more about upcoming activities to mark its 20th anniversary. Here you will also find the first of the SEED 20 Years Flagship report series "From Impact to Scale".