News text / Meta description
An eventful year lies behind us: the pandemic, crises and war in Europe. Despite the obstacles, however, we have again achieved transformative change and strived to create a sustainable future for generations to come. Here are a few of our many adelphi highlights.
February 24 was anything but a bright spot. That sombre day, a Thursday, will go down in history and remain in our collective memory for a long time to come. The news of Russia's attack on Ukraine shocked and enraged us, along with many others. adelphi stands behind its statement on the war and repeats: Нет войне! In a special session at the time, German Chancellor Scholz announced the far-reaching effects of war on German politics: "We are experiencing a 'turning point'. And that means: the world now is no longer the same as the world before." But, what should this world look like? adelphi has clear ideas.
Germany and the EU want to reduce dependence on Russian gas and are looking for new energy sources and partners. They have also strengthened existing partnerships. The USA and Germany, for example, are intensifying their cooperation in climate and energy. This includes offshore wind, electromobility and hydrogen. In addition, German Minister for Climate Action Habeck signed an agreement with Canada's Minister of Natural Resources to establish a bilateral hydrogen alliance. Our adelphi experts were in attendance, for two years they have been working towards this alliance. The plan is to produce green hydrogen in Canada and export it to Europe starting in the mid-2020s. In recent years, we have been working on ground-breaking studies on the enormous potential of this energy source, most recently the Hydrogen Factsheets on Canada, China and Japan.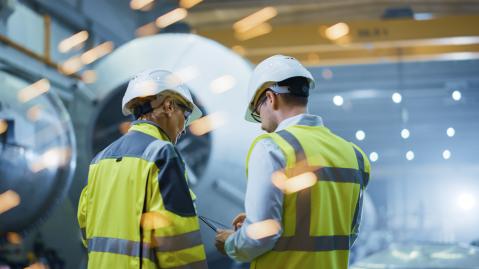 In view of the balancing act of making the energy transition happen on the one hand and mitigating the energy price shocks caused by the war on the other, the topic of energy also dominated headlines in Germany. Among other things, we looked at how governments are supporting households during the energy price crisis and how to increase energy efficiency in buildings (e.g. in retail or through building automation). Even a tour group from Australia came to Berlin to find out more about it. To support social and entrepreneurial participation in the energy transition, we drew up policy recommendations to promote social innovations in the energy sector. And we wanted to know whether and to what extent the population would accept carbon pricing.
The fact that emissions trading systems (ETS) are the key to decarbonising economies and cushioning energy price shocks has not only been known since the EU agreed on the Carbon Border Adjustment Mechanism (CBAM) and the establishment of a Social Climate Fund. The status report published in March by the International Carbon Action Partnership (ICAP) clearly summarises the importance and impact of the ETS in order to contribute to the goal of climate neutrality. Of course, the potential for climate-neutral growth is also considerable in South America and in South and East Asia. ETS are in development or under consideration there. We continue our efforts to persuade in this matter.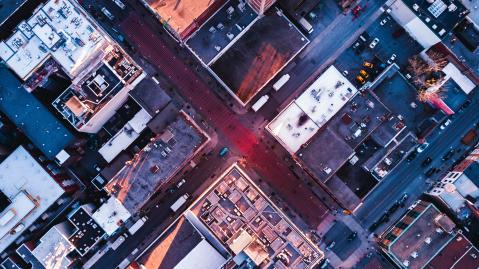 Green supply chains
Driving investments in decarbonisation and reducing climate-damaging emissions – the European Investment Bank (EIB) is also committed to this goal. On their behalf, adelphi developed an innovative online tool, the "Green Eligibility Checker". It offers employees of commercial banks, for example, an easy way to assess whether their customers' small, standardised investment projects are suitable for green financing from the EIB. However, this year's European Sustainable Finance Survey, which is being carried out by adelphi together with partners, came to a different conclusion: European asset managers and asset owners have made little use of the EU taxonomy for sustainable activities to control and demonstrate the sustainability of their financial products. The reason: there is still a lack of reliable data, which creates uncertainty. So it's all a matter of time and support.
Financing is a keyword: this year, 29 biodiversity-friendly companies from Malawi and Zambia were selected for the Biodiversity Finance Accelerator (BioFA) funding program. The program helps them refine their business models, access financing and scale their companies. The BioFA project is part of the International Climate Initiative (IKI), and receives support from the BMUV. For more than 20 years, SEED has been promoting ecologically sustainable and socially inclusive micro, small and medium-sized enterprises (MSME) with the aim of sustainable development and a green economy. These are reasons enough for the global partnership to celebrate this with the whole world in 2022 and share the knowledge, as noted in the SEED 20 Year Impact Flagship Report, for example.
Enhanced cooperation is also needed between the EU and China. This includes supply chains and the reduction of greenhouse gas emissions, especially in the steel and automotive sectors of both trading regions. The potential for decarbonisation is huge here. It is gratifying that political decision-makers are becoming more aware of the connections and interactions between human rights and environmental issues in supply chains, as a new study by adelphi shows. Another takes a more detailed look at the environmental risks and impacts in global supply chains, using the automotive industry as an example. Together with BMUV and GIZ, we hosted a three-part webinar series on environmental issues and due diligence in supply chains. When people talk about the car industry, they quickly think of Volkswagen, the global group based in Lower Saxony. It is an integral part of the industry there, which is heavily affected by decarbonisation. A corresponding study with input from adelphi sheds light on the requirements necessary for a targeted transformation of the Lower Saxony economy.
Climate, protection and adaptation
Severe storms and floods in Italy, Greece, Australia, Venezuela, devastating floods in Pakistan, Hurricane Ian in Florida, forest fires in Portugal, Spain, France, droughts and disappearing rivers worldwide, heat waves in Pakistan, India, Europe – extreme weather events shaped the year 2022. These violent climate fluctuations have become increasingly common and pose a threat to global stability and security. Fragile states in particular face major challenges that harbour a high potential for conflict. The West African country of Mali is currently caught in this vicious circle, according to a new report by Weathering Risk, an initiative by adelphi and the Potsdam Institute for Climate Impact Research (PIK) that brings together cutting-edge climate impact and conflict research. It is critical that we keep these connections in mind. Unfortunately, these considerations have rarely been included in previous peacekeeping programs. The new flagship initiative "Weathering Risk Peace Pillar" funded by the Federal Foreign Office aims to close this gap and support the analysis of climate-related security risks for sustainable peacekeeping measures on the ground.
In addition, adelphi, together with the forecasting institute Good Judgment, looked to the future to make recommendations to the G7 countries on how to avert some of the worst consequences of the climate crisis for peace and security. At this year's Berlin Climate and Security Conference (BCSC), which adelphi helped organise, participants discussed the effects of the climate crisis on peace and security and sought out informed, global solutions. One highlight of the international meeting was the announcement of the "Climate for Peace Initiative" (#Climate4Peace). In an interactive fishbowl discussion, participating countries pledged to promote projects in line with the principles of the Climate, Environment, Peace and Security Declaration and Initiative, signed by more than 20 governments. The call for more attention to be paid to the countries most at risk from climate change was also made clear at the UN Climate Change Conference (COP27) in Sharm el-Sheikh. The loss and damage discussions underscored this. At COP27, adelphi also tried to focus on the connections between climate and human mobility.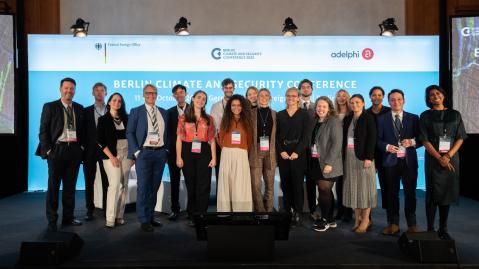 And in Germany? Since weather records began around 140 years ago, it has never been as hot in this country as it is today. Heavy rainfall is also becoming more frequent, causing problems for municipalities. We urgently need strategies and plans to adapt to the consequences of climate change. In a political recommendation paper, we summarise around twelve recommendations to strengthen the integration of climate adaptation to heat and heavy rain in municipal planning. In another report, we make concrete suggestions on how municipalities can prepare and implement climate risk analyses. We also discussed these topics with representatives from federal, state and local government at the very first networking conference of the Centre for Climate Adaptation (ZKA). The response to this event was so positive that we organised a second conference in the fall. At this year's World Urban Forum in Katowice, on behalf of GIZ, we succeeded in providing a stage for the German government's presentation on sustainable urban development and creating a forum for intensive local exchange.
Circular economy really rocks
In the Labor Tempelhof project, together with the German rock bands Die Ärzte and Die Toten Hosen and the NGO Cradle to Cradle, we put together a series of concerts with circular solutions – even though the weather could have been better. With the publication "Culture for Future" we want to initiate sustainability strategies for the cultural sector. At the Limits to Consumption conference, we discussed how the limits of growth are affecting our lifestyles. In the first Citizen Thinking Lab, we wanted to find out from selected citizens what they think of 1.5-degree lifestyles, which aspects are acceptable to them and which are not. We launched the Circular Economy Catalyst together with SEED and the IKEA Foundation, a project that helps 220 entrepreneurs in India and Kenya create profitable business ideas in the circular economy.
We also dealt intensively with waste management in Jordan and China as well as with the harmful effects of plastic waste on the environment and the preparations for an international plastic agreement. We also aimed to increase knowledge and awareness of the role of water tenure in water management. This is because water is inextricably linked to the livelihood and food security of all people. To this end, we organised a workshop on behalf of the UN Food and Agriculture Organization and published background papers. We intend to improve communication on biodiversity with a new online communication toolkit. We also aim to get children and young people excited about protecting Europe's diverse natural environment with the European Conservation Toolkit.
2022 comes to an end with some really good news from Montreal. At the UN Biodiversity Conference, the contracting states agreed, among other things, to place 30 percent of land and sea under protection by 2030 and to reduce subsidies that are harmful to nature. Furthermore, a special trust fund worth billions is to be set up to support the countries of the Global South in implementing the new framework agreement on global biodiversity. It is news like this that reminds us that, behind all our efforts and achievements, lies great opportunity. For innovation. For the common good. For better living conditions. For peace and security. And for a life in harmony with nature.
Bring on 2023. We're just getting started!