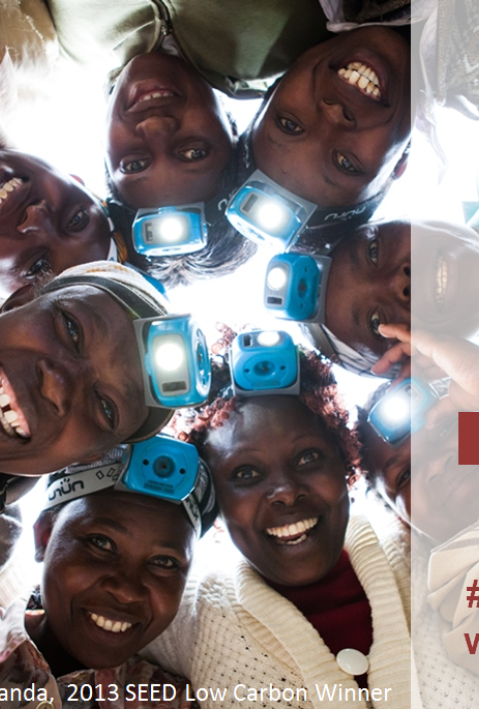 Paragraphs
Text
Every year, the SEED Awards for Entrepreneurship and Sustainable Development recognise promising local startups that use environmental and social innovation to promote environmental sustainability and fight poverty. This year, companies from India, Colombia, Tanzania, Thailand and Uganda can apply.
The award winners are honoured by an independent international jury and, in addition to financial support, receive six months of consulting, marketing and networking support. Above all, this year's competition looks for innovative business models that contribute to the implementation of a low-carbon economy in these countries.
The application deadline for this year's SEED Awards is April 3, 2018.
Unique Quality Product Enterprise from Ghana combines climate resilience and gender equality
Video
Text
One of the 20 winners of the last SEED Awards is Unique Quality Product Enterprise (UQE), from Ghana. The company has been working on two key steps to tackle hunger and poverty: First, the company contributes to climate resilience in regions of Ghana where droughts and floods have exacerbated food insecurity and malnutrition among the population. Secondly, UQE promotes the financial independence of women who are traditionally not allowed to own and manage their own land and are therefore particularly vulnerable to poverty.
The company achieves these goals by cultivating fonio – a type of ancient grain that was once an integral part of the local diet but has since been forgotten by the introduction of rice and other cereals. The grain contains many nutrients in addition to another essential advantage over conventional cereals: It is climate-resistant and neither drought nor flooding can harm it.
"Companies like Unique Quality Product Enterprise combine social aspects with highly relevant topics in ecology – and manage to develop a self-supporting business model even under adverse circumstances," says Jona Liebl, the program manager at SEED. "The goal of SEED is to raise awareness of successful models and to show that good practices can have a positive impact through targeted training programs, including in other regions and countries".
"People said it was impossible. But it happened."
Salma Abdulai is the founder and CEO of UQE. Through her company, she brought fonio back from obscurity and trained women in the cultivation and processing of the grain. However, the hurdles Salma Abdulai had to overcome before UQE became a success were anything but small, as the tradition of women not being able to farm their own land is deeply rooted in Northern Ghana's culture. She negotiated with tribal chiefs and local leaders to give women access to infertile, abandoned communal land – with success: today, women can grow fonio on unused land and sell it to UQE. "People said it was impossible. But it happened. The culture is still there, the tradition is still there, but women have access to land today," says Salma Abdulai.
As winner of the 2016 SEED Awards, UQE received six months worth of technical consultation on the further development of the company. "Developing our business plan with SEED resulted directly in getting funding for key infrastructure," says Salma Abdulai. In addition, SEED initiated UQE's collaboration with the NGO "Send Ghana," which trained a total of 200 women in the agronomic and climate-friendly cultivation of fonio.
Find out more about UQE here from a SEED case study on the company.
SEED was launched in 2002 as part of the World Summit on Sustainable Development in Johannesburg by the United Nations Environment Program (UNEP), the United Nations Development Program (UNDP) and IUCN (International Union for Conservation of Nature). adelphi has been an implementing partner since 2006. In 2013, adelphi research, its non-profit arm, took over the project sponsorship of SEED.
This year's Low Carbon Awards are made possible by the International Climate Initiative of the Federal Ministry for the Environment, Nature Conservation, Building and Nuclear Safety (BMUB).