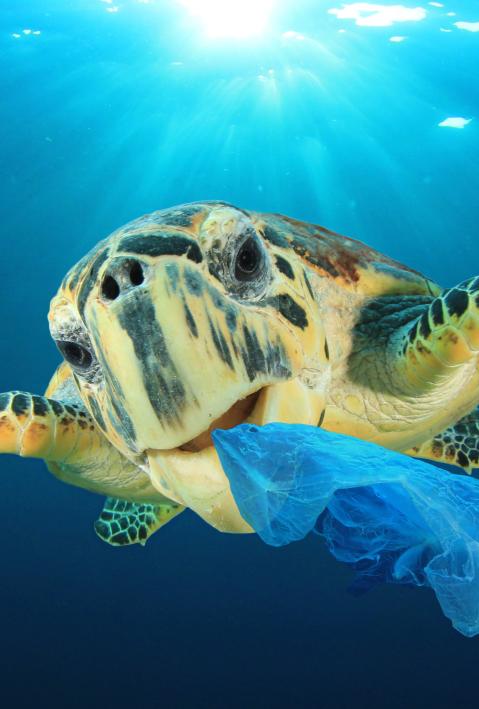 News text / Meta description
The oceans are suffering from increasing pollution from plastic waste. Yet there are major gaps in the existing international agreements. In a recent study, adelphi and Ecologic Institute identified weak points and explained the demands that an effective global agreement on plastic waste must meet.
More than 1,400 marine creatures are endangered by the ever-growing amount of plastic waste. In 2017 alone, 335 million tons of plastics were produced. Only nine percent of the plastic waste produced so far has been recycled, while a further twelve percent has been incinerated. The remaining 79 percent went to landfills or ended up in the environment - much of it in the world's oceans. The amount of plastic is expected to quadruple by 2050.
However, the efforts of the international community so far have not been sufficient to prevent the growing pollution of the seas by plastic waste. This is the conclusion of a recent study by adelphi and Ecologic Institute, which was commissioned by the WWF and presented in Geneva at the beginning of December 2018.
The study "No more Plastics in the Ocean: Gaps in Global Plastic Governance and Options for a Legally Binding Agreement to Eliminate Marine Plastic Pollution" identifies gaps in existing regulations and provides options for action for a legally binding global agreement on the protection of the oceans from plastic that has been lacking until now.
The study's authors names the following five key elements as constituting a legally binding global deal:
A clearly formulated objective to stop any additional pollution of the seas by plastics
Binding national targets to reduce plastic pollution
A mechanism for reviewing the agreed objectives and a significantly more in-depth exchange between science and politics
A central forum for coordination and partnership building between governments and other actors
Nils Simon (adelphi), lead author of the study, says: "The existing agreements and regulations particularly lack specific target agreements and monitoring mechanisms. In addition, waste disposal is expensive. As a result, low-income countries are often unable to provide the necessary resources and are dependent on international support."
Furthermore, there are still considerable gaps in knowledge and a lack of institutionalised mechanisms to identify and control the sources and routes of plastic pollution. Existing regulations on marine protection and international trade of hazardous waste are very fragmented, while there is a lack of coordination between existing agreements.
The authors also identified a further gap in the fact that there is no effective review of the existing agreements. "All these shortcomings in existing global governance mean that the international community has so far failed to adequately address marine pollution with plastics," says Nils Simon.
In addition to the five elements for a new legally binding global agreement, adelphi also recommends changes to existing rules and international institutions. For example, the Basel Convention - the Convention on the Control of Transboundary Movements of Hazardous Wastes and their Disposal - urgently needs to be extended to include plastic waste as a waste stream regulated by the Convention.