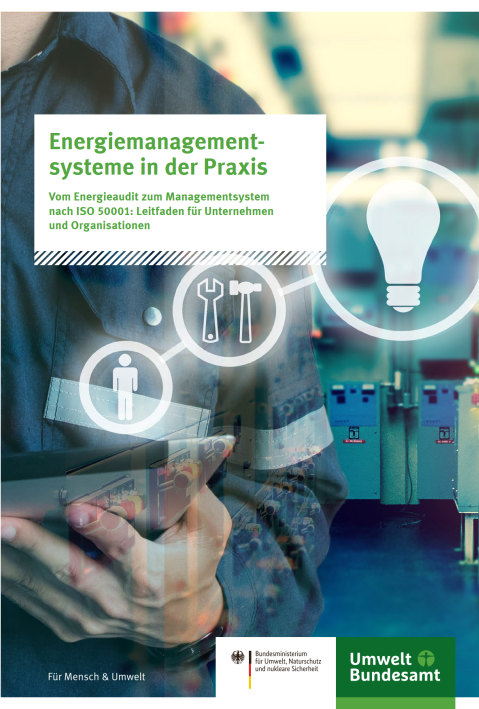 News text / Meta description
A valuable tool for companies to continuously improve their energy efficiency while reducing greenhouse gas emissions.
German climate policy aims to reduce greenhouse gas emissions by a considerable amount. The official goal is ambitious: By 2030, Germany aims towards decreasing its emissions by 55 percent compared with 1990. This is only possible by implementing several measures at once. In addition to the use of renewable energies in all sectors, energy efficiency thus plays a decisive role, particularly for businesses. Many companies have already implemented energy efficiency measures out of ecological and economic interest. The international standard ISO 50001 serves as a framework for establishing an energy management system. With its help, organisations can continuously reduce their energy expenditure without any loss of productivity through targeted energy saving measures and thus increase their competitiveness.
In 2012, the Federal Environment Agency, together with the Federal Environment Ministry and adelphi, published the corresponding guideline "Energy management systems in practice for companies and organisations", thus providing valuable support in establishing systematic energy management. In 2018, the standard for energy management systems ISO 50001 was revised, making an update to the guide necessary. Together with the Niederrhein University of Applied Sciences, adelphi developed an updated edition, which has now been published by the Federal Environment Agency.
New structure and valuable additional information
In contrast to the previous version, this new edition no longer adheres to the structure of the ISO 50001 standard, but guides readers chronologically through all steps of establishing an energy management system, from conducting an energy audit through introducing energy management to implementing measures and getting certification.
The guide contains numerous recommendations, some of which go beyond the requirements of the standard but are nevertheless helpful in making an energy management system highly effective and geared towards corporate success. Also new are descriptive examples, experience reports and practical tips from companies in a wide range of industries that are certified by ISO 50001. In addition, there is a special chapter explicitly aimed at companies' top management . The "test run", to which another new chapter of the guide is dedicated, can be used to determine whether systematic energy management is worthwhile for a company.
According to § 8 of the "Energiedienstleistungsgesetz" (the German law governing energy service providers, EDL-G), large companies are obliged to carry out an energy audit or alternatively establish an energy or environmental management system. The guide therefore addresses in particular those companies facing the decision whether to introduce a certified energy management system instead of a renewed energy audit according to DIN EN 16247-1 to fulfil this obligation. Of course, this guideline is also suitable for companies without a preceding energy audit who would like to enter into energy management directly. For companies that would like to improve their environmental balance in addition to energy savings, the guide describes additional requirements needed to achieve certification for the EU EMAS environmental management system.
Click here for the complete guide (German version).
Note: An English version of the guide will be published by the Federal Environment Agency in the near future.