Kicker (computed)
By Janani Vivekananda and Dr. Benjamin Pohl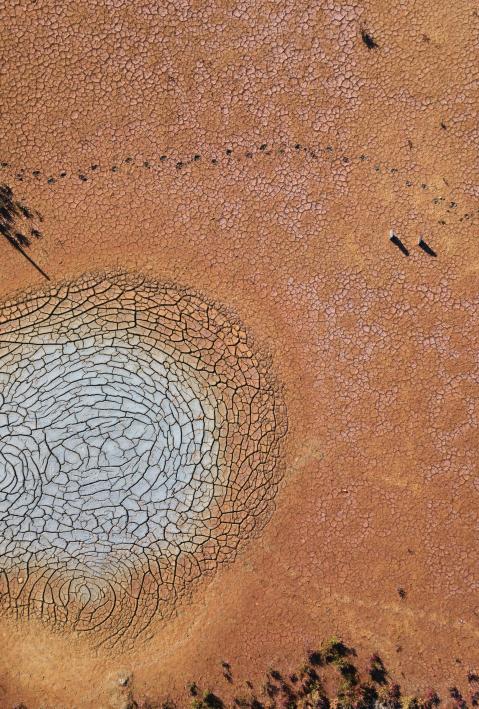 News text / Meta description
by Janani Vivekananda & Benjamin Pohl, Heads of Programme Climate Diplomacy and Security at adelphi
The German ministers for foreign policy and defence visited the Sahel in April. Given the war in Ukraine, this destination may come as a surprise at first glance. However, it is a region that is of strategic importance for Europe and, at the same time, full of security policy challenges. The climate crisis, which the German government has declared a guiding star of its foreign policy, plays a major role in many of these challenges. Given that the interactions between climate change and instability are becoming ever clearer in this and many other regions, the Federal Government should also promote this issue as part of its current G7 presidency.
Armed conflicts related to the climate crisis often appear to us as an abstract threat, the stuff of dystopian science fiction. But for Youssouf [1], a young herdsman in central Mali, they are already a reality. He travels with his family's cattle to find grazing land, and experiences first-hand what we know from scientific analysis: it's hotter in Mali these days and the rain is less predictable than it used to be. Farmers in Mali also have problems feeding their families; as a result, they increasingly cultivate crops on the land where Youssouf and other young men of his tribe bring their cattle to graze. This leads to arguments that often result in violence. The situation is exacerbated by armed jihadists in the region, who recruit from marginalised groups, including shepherds – which means that farmers and the Malian military treat them as potential jihadists.
As our forthcoming study on the interactions between climate crisis and fragility in Mali demonstrates, violence between farmers and shepherds is just one of many conflicts over natural resources that are increasing in Mali. Many freshwater fishermen suffer from chemical runoff as farmers increasingly resort to pesticides and fertilisers. This problem, in turn, is exacerbated by less frequent and heavier rainfall – another consequence of the climate crisis. Instead of helping resolve these types of conflicts, the government often makes them worse through corruption and divide-and-rule policies.
Such everyday conflicts over livelihoods characterise many regions of our rapidly warming planet. Most, however, have not yet reached the threshold of a real war and the associated global attention.
In Mali, too, the political class ignores these challenges at the level of human security – the basic conditions people need to live with dignity and provide for their families – and focus on their own safety. In the wake of popular protests in 2020, the military (again) seized power in the country. Elections and a return to civilian government are not in sight. Added to this is the fight against armed jihadist groups, which is accompanied by serious human rights violations: various media outlets recently reported on a massacre near Mouro, in which more than 200 people were said to have been killed by government soldiers and mercenaries from the Russian Wagner troops at the end of March. Last but not least, this complicates the question of whether and, if so, how Germany can and should continue to participate in multinational protection and training missions in Mali.
Many Bundeswehr missions abroad in recent years have been explicitly or implicitly part of the global "war on terrorism". However, this is a poor starting point for training missions in fragile societies, where the core of the conflict is often the marginalisation and disenfranchisement of parts of society – which jihadist groups like to exploit. Our research also shows in other Sahel countries that foreign military interventions are often seen as a cause, and not a solution, for the recruitment of armed militias. The sometimes oversimplified notion that there can be no military solution, only a political one, is extremely appropriate in the Sahel, as the basic problem is a lack of trust between the political centre and the periphery. On the periphery, state and government are not perceived as helpful service providers, but as exploitative oppressors – and often they are.
For Germany and its European partners, this means that further support for Malian security forces only makes sense to the extent that it can play a role in constructive political processes. In the Sahel region, greater resilience to the climate crisis can provide critical starting points. Technical approaches such as the expansion and modernisation of the national weather service could contribute to greater resilience to climate change in Mali. Donor countries like Germany should also focus their programs on strengthening the capacities of government and civil society to support marginalised groups in adapting to climate change. This can help to improve relations between competing population groups as well as between the state and society. Fighting jihadists militarily may be necessary, but it only makes sense as part of a larger strategy that gives more voice and rights to all groups in society. Afghanistan has shown how difficult such an approach is to implement – but above all how the continued primacy of military counterinsurgency leads to nothing.
The change in foreign policy announced by the government should therefore not be limited to increasing the defence budget and a more realistic Russia policy, even if both are necessary. Germany has systematically underestimated the importance of military power in the region to its east. But a second lesson from the past few decades should be that the West as a whole has overestimated and misjudged its impact on the Global South. Both must change.
---
[1] Name changed
An edited version of this article first appeared in the "taz" on 19 May 2022 (in German).