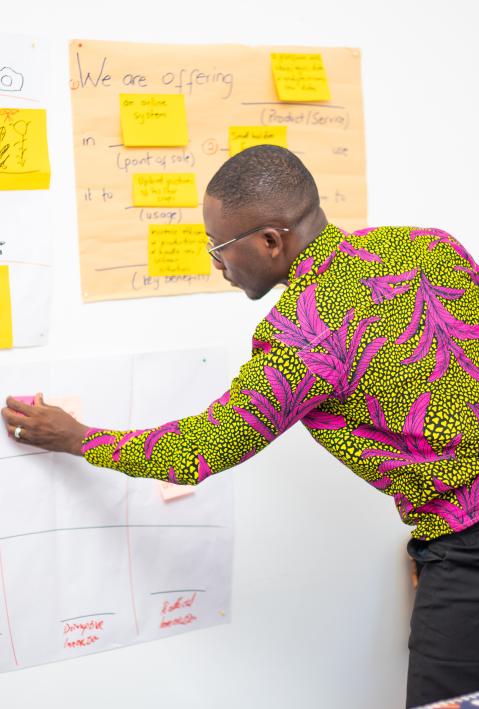 News text / Meta description
Knowledge transfer, competence-building and co-creation: In collaboration with adelphi and other partners around the world, GIZ's "Innovation Factory" promotes and develops innovative digital solutions that make a major contribution to sustainable development.
Reducing food waste through an app, providing micro, small and medium-sized companies with financial knowledge free of charge via a platform, or measuring a company's carbon footprint with the help of software – local digital technologies like these create opportunities for sustainable development and, at the same time, solutions to the challenges we all face. They may even help make the implementation of the Sustainable Development Goals of the United Nations (SDGs) faster, better and less expensive.
The so-called Innovation Factory of the Deutsche Gesellschaft für internationale Zusammenarbeit (GIZ) intends to tap this potential and promote and develop it across sectors and regions in the partner countries. The first step involves innovation competitions to identify and select promising innovators and their digital solutions. This year, the competition took place in three countries: Ghana, Indonesia and Mexico.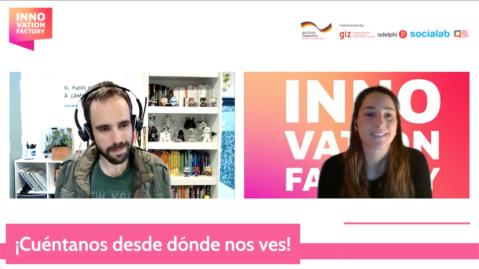 Thematic priorities per country
Applications were accepted from the private sector, civil society and government. A total of 132 applications were received from the three countries. Two juries – one composed of members of the Innovation Factory, the other of local industry and technical experts – reviewed and evaluated them. Each country had a thematic focus that had been carefully selected in close cooperation with local experts. While "financial inclusion" was the focus for Ghana, the topics for Indonesia were "urban sustainability" and for Mexico "green recovery".
As environmentally and socially responsible companies, the selected start-ups already have a positive impact on local challenges with their products and services and also contribute to several SDG indicators. Communities that that do not receive state support benefit from critical digital services, as well as often marginalised groups such as women and young people. In addition, these start-ups are leading the transition to a low-carbon economy.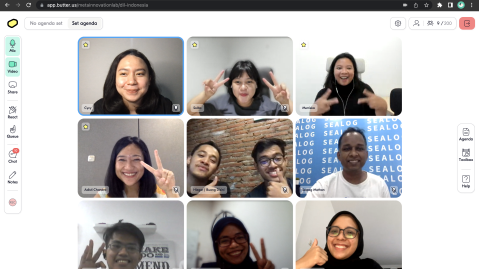 These companies were supported
Ghana – Financial Inclusion
JidiTrust: an interactive online and offline freemium platform to support micro, small and medium-sized enterprises (MSMEs) by providing access to free financial education content in local languages
Bethniel Finance: a platform that provides a seamless personal finance management service, access to financial services and financial education support. Users can invest, make payments and transfers, borrow money and take out insurance
Tuusor: a platform that helps microfinance institutions and credit unions (savings and credit unions, community banks) to transform their operations to digital technologies, access digital financial services and financial education content, and participate in digital markets
Indonesia – Urban Sustainability
Surplus ID: a food waste reduction app that allows local food companies to sell their overstock and defective products to customers at a discount of at least 50 percent
Buang Disini: an integrated waste collection system that allows the community to sell their plastic waste at a proportional tariff above the average market value
Sealog Green Delivery: delivery services for everyday goods using e-bikes and e-cargo bikes
Mexico – Green Recovery
sinCarbono: software that simplifies carbon footprint measurement and energy diagnostics for small and medium-sized enterprises (SMEs). It promotes energy efficiency, enables operational savings and combats climate change
Blau: an application that uses artificial intelligence to automate operations and the logistical process between garbage, waste and recycling collection companies
Elica Avante: helps small businesses, shops, restaurants and corporations in Mexico improve their waste efficiency and become zero waste
Next step: Digital Innovation Launcher
These nine companies were given access to the Digital Innovation Launcher (DILP) programme to refine their ideas and prototypes, create a viable business plan and launch their sustainable digital innovation. They received support from local and international experts. This included a series of workshops, expert mentoring and one-to-one coaching, as well as additional support for scaling activities, such as advice on legal issues or marketing strategies. Another advantage of the DILP: the participants had the opportunity to exchange experiences and network with like-minded people from different areas of the social and environmentally friendly start-up community.
The project was carried out by the Innovation Factory team with the support of adelphi and local partners in the respective countries. According to our survey of the participants, all of them considered it very likely that they would recommend the programme to a peer company.
---
For more information visit the Innovation Factory website.
Contact: ong

adelphi [dot] de (Sonya Ong)