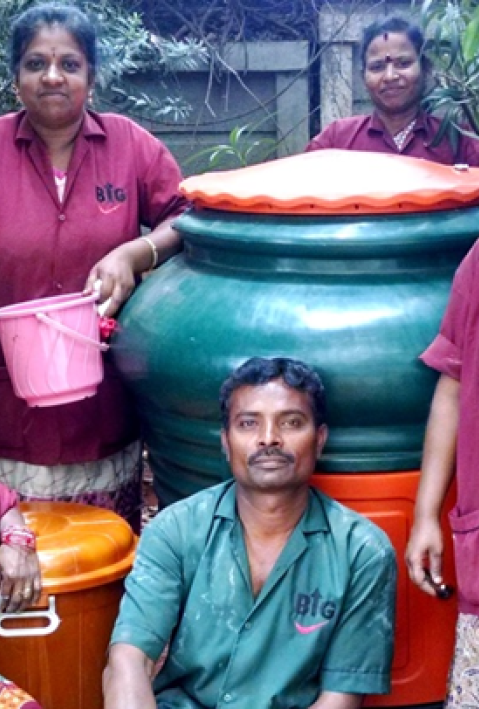 News text / Meta description
From a collaborative recycling WebApp enabling waste management services to users in Colombia to composters designed for urban households in India – these are few highlights of the five winners of this year's SEED Low Carbon Awards announced during the High Level Political Forum 2018 in New York.
This year's SEED Awards are placing particular emphasis on eco-inclusive enterprises from Colombia, India, Tanzania, Thailand and Uganda. Five winning enterprises were selected by an independent Jury of International Experts from nearly 250 applications. The innovative enterprises are active in the sectors of waste management, energy and green technologies. During the coming months these winners will be supported by SEED through tailored one-on-one advisory service that offers assistance with their business and financial plan, as well as additional marketing and promotional activities to scale their operations and provide replicable business cases that can be established by peers all around the world. The support methodology and content is based on SEED's more than 10 years of experience in assisting eco-inclusive enterprises globally. The winners will also join a network of more than 230 enterprises from 38 countries in Africa, Asia and Latin America - laureates of the SEED Awards. The winners will be honoured at the SEED's high-level Awards Ceremony.
The SEED global partnership recognizes the most innovative, inclusive and environmentally friendly start-ups in developing countries and provides them with business know-how support and profiles them regionally and nationally to help them grow and share their experiences. The 2018 SEED Low Carbon Awards are supported by the International Climate Initiative (ICI) of the German Federal Ministry for the Environment, Nature Conservation and Nuclear Safety (BMU).
SEED is a global partnership for action on sustainable development and the green economy that was founded by the United Nations Environment Programme (UN Environment), the United Nations Development Programme (UNDP) and International Union for Conservation of Nature (IUCN) at the 2002 World Summit on Sustainable Development in Johannesburg. SEED is hosted by adelphi.
Further details about the winners 2018 can be found here.