News text / Meta description
Is this investment project green? The online tool "Green Eligibility Checker," developed by adelphi, answers this question. It was recently highlighted by the European Investment Bank (EIB) as a cornerstone of their green finance strategy.
The public learned about the Green Eligibility Checker for the first time during the 26th UN Climate Conference (COP26) in Glasgow. The innovative online tool was developed by adelphi on behalf of the EIB with financial support from the European Commission. Representatives from EIB and its partner institutions presented the Green Eligibility Checker, highlighting how it facilitates green investment and financing.
The Green Eligibility Checker offers employees of financial intermediaries, such as commercial banks in Europe, a simple, effective way to assess their clients' small, standardised investment projects in terms of green financing.
The tool does the work
With a limited number of inputs, the Green Eligibility Checker is designed to be user-friendly and intuitive. Users provide basic project information and then let the tool do the work.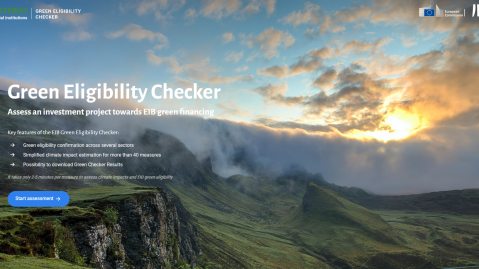 At the end of the assessment, they receive a special PDF report ("Green Eligibility Results"). The report explains whether the project is eligible for green financing from the EIB and how it is estimated to have an impact on the environment (e.g. possible CO2 or energy savings). This data can then be used for internal purposes by the financial intermediaries, for customer engagement or even for reporting to the EIB.
"Financial institutions need innovative solutions to first identify green investments in a simple way and then to bring green loans into the market on a broad scale accordingly. Our Green Eligibility Checker, which was developed primarily for employees of financial institutions, therefore aims to strike a good balance between ease of use and the validity of the estimated environmental impacts," says Svenja Hector, Senior Manager and Co-Lead Finance at adelphi.
Green finance for everyone
By making the Green Eligibility Checker available free of charge and without registration, the project participants aim to inspire the wider community of financial institutions and other market players. The Green Eligibility Checker is intended to help redirect investment flows to carbon-neutral projects. In parallel to the developments in the EU taxonomy for sustainable financing, the Green Eligibility Checker will also be continuously updated. As a result, the online tool serves as a reference point for those financial institutions trying to keep up with European green finance standards.
To learn more about the Green Eligibility Checker, take a look at the EIB's informational video about the Green Checker or visit the website.
Contact person: liebl

adelphi [dot] de (Jona Liebl)