News text / Meta description
To achieve their climate goals, many cities look beyond their own horizons and seek exchange in networks. How does this translate into tangible and long-lasting impact? Over three years, adelphi led the cooperation among 34 municipalities within the project Bridging European and Local Climate Action (BEACON). Here are selected impact stories.
Many European municipalities are at the forefront of climate action, for a good reason: this is where the effects of climate changes become most visible. Flash floods destroy key urban infrastructures, droughts endanger yields, whilst heat stress impacts the physical and mental health of urban dwellers. At the same time, local politicians have a genuine interest in offering attractive living and working conditions to their constituencies and therefore look for new opportunities arising from the clean energy economy. To do so, many are seeking exchange with and inspiration from their peers, as facilitated by BEACON.
Peer learning accelerates the planning of measures in municipal administrations
BEACON conferences, thematic workshops and city partnerships provided room for a direct exchange of experience, tips and know-how on specific climate action fields. Following these events, several municipalities revised their priorities, adjusted the weighting of individual measures, and added new topics to their agenda.
"I see the project as a market-place for experiences and ideas on climate change mitigation and other questions that municipal administrations are confronted with." Olaf Lewald, Bielefeld, Germany
For instance, Cieszyn (Poland), inspired by the energy management software presented by Rožnov pod Radhoštěm (Czech Republic) at a workshop, decided to look for a similar solution for systematically monitoring energy consumption in public buildings. The city decided to start with a tailored, non-commercial solution, which will provide the data basis required to update their Low-Emission Economy Plan (LEEP) initiated in 2021.
In complement to the dialogue events, individual advisory support enabled municipalities to prioritise and pursue relevant measures and initiatives.
"Coachings gave inspirations on how to improve in our job, understand future challenges and opportunities (…). We often don't have time to look for these types of information ourselves." Representative of Bielawa, Poland
Over 90 percent of BEACON participants reported that the general atmosphere the project created led to the prioritisation and multiplication of climate action measures in their municipality. In many cases, prevalent project ideas could be advanced thanks to strategical and/ or technical support – partially up to implementation. In other cases, new ideas were brought to life, some of which are introduced below.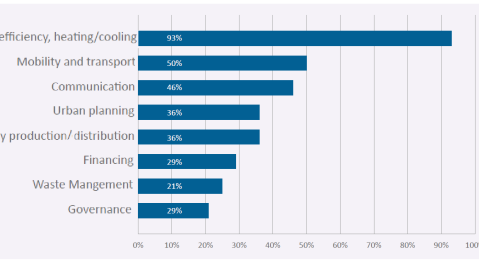 Areas in which new projects have been realised or advanced as a result of BEACON. 93 % of municipalities evaluated used BEACON to move forward existing projects; 79 % developed new climate projects. Source: From Ideas to Action.
New goals and strategies adopted
Feeling part of a community of peers motivates and inspires technicians and politicians alike to step up the ambition of the municipal climate policies. Eight of the 15 non-German municipalities, who received extensive support and were originally signatories to the Covenant of Mayors (CoM), have now renewed or are working on renewing their commitment to the CoM for 2030 and a ninth city – Kalamata (Greece) – joined the initiative. They have substantially advanced the development of their Sustainable Energy and Climate Action Plans (SECAPs).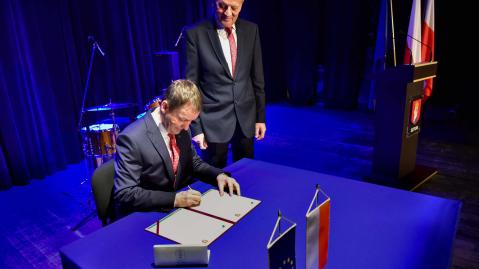 The Mayor of Sztum signs the Covenant of Mayors. Source: UMiGSztum.
In addition to results in overarching strategy and political framing, several municipalities developed or revised planning documents for specific sectors, for example a land use plan in Přeštice (Czech Republic) and a circular economy action plan in Loulé (Portugal). Alba Iulia, Zalău and Deva (Romania) developed an integrated strategy for urban development focussing on climate change – looking at consequences, and mitigation and adaptation potential.
Municipal administrations made fit for climate action
The support provided by the project helped municipalities not only to adopt new goals, but also to carry out their commitments. Several introduced or consolidated new work processes and structures that broke down sectoral silos and enabled more effective climate action. As a result, BEACON participants across countries expressed that they observed more support for climate action from colleagues in their administration since the project start.
In Greece, every participating municipality reported either restructuring their municipal government to better facilitate tackling cross sectoral climate change challenges or an increase in interdepartmental liaising for climate goal setting and climate plan coordination.
In Sztum (Poland), a new unit was established with the task of leading local climate and energy policy and introducing appropriate organisational changes in the entire town hall. In addition, a new position for climate projects and policy will be filled soon.
In Loulé (Portugal), the technical staff for climate action, which previously only focused on adaptation, expanded its mandate to circular economy and climate change mitigation. It was concurrently upgraded from a municipal unit to a division. The elevated status provides it with more resources to work on equal footing with other municipal departments.
Collaborative climate action kick-started
Municipal administrations alone can only achieve a small share of the climate goals. Engaging with local stakeholders is a paramount precondition for a successful transition to climate-neutral societies.
On the Greek island of Syros, BEACON helped pave the way for a local climate forum bringing together key players, such as hotel owners and the hospital – as large energy consumers – and renewable energy producers. A coaching by BEACON partner CRES supported local staff strategically map actors, define responsibilities and draw links to on-going projects, equipping them to take follow-up steps on their own.
In Setúbal – a major Portuguese harbour city – an exchange on climate action with industry leaders could be re-established for the first time in years. They provided input to the development of the municipal SECAP; the final plan is to be presented in the near future to private sector stakeholders to mobilise funding.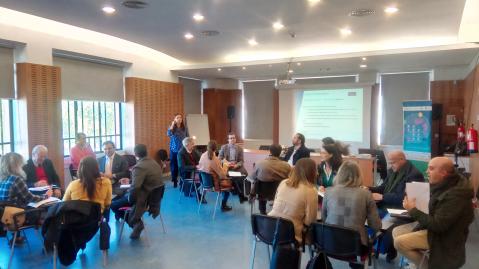 Stakeholders from Setúbal discuss climate action. Source: BEACON.
Energy efficiency improvements secured
Among all climate action topics, energy efficiency remains a key priority for municipal administrations and the savings potential is still considerable, particularly in Eastern and Southern Europe.
Approaches to municipal energy management, including the enhancement of data collection and analysis, were substantially enhanced with the support of BEACON. In Greece, Agios Dimitrios, Dorida, Farsala and Syros-Ermoupoli have worked with CRES and external experts on setting up energy management systems following the ISO 50001 standards. In parallel, and as a consequence thereof, single energy-related retrofits and renewable energy investments in public buildings, in street lighting or the municipal fleet were initiated or completed.
The municipality of Rožnov pod Radhoštěm (Czech Republic) decided to set up an Energy Performance Contracting Scheme (EPC) to implement public building retrofitting in 30% of public buildings. Annual savings are estimated to reach 1 GWh or 1.2 million CZK (46k EUR), and investment of around 12 million CZK (460k EUR). The contract locks in energy and financial savings for ten years.
Sztum (Poland) was successful in acquiring funds from the European Cities Facility (EUCF) to realise new investments in their water and sewage management system. This includes the installation of renewable energy sources, the reduction of the energy intensity of the water supply and wastewater collection, and the introduction of the possibility to use e-vehicles as energy storage means.
Renewable energy projects outlined
Progress in the field of production from renewable energies was less advanced – likely due both to the lengthy and complex planning process and the involvement of stakeholders from the private sector. Nonetheless, important political decisions and planning steps were reached in Greece where Dorida and Farsala achieved important milestones in establishing local energy communities.
In Romania, all the municipalities conducted an initial study on the rooftop Photovoltaic (PV) potential for public buildings. Alba Iulia has now used the results as a basis for applying for funding via a European Economic Area (EEA) grant to undertake the PV installation.
Innovative industrial projects piloted
Outside typical municipal work in the energy sector, a pilot project was launched in Coruche (Portugal) to decarbonise the local traditional charcoal industry, which was responsible for a significant share of the municipality's GHG emissions. The city has entered in a structured dialogue with producers and civil society. The result of this dialogue is a two-tier approach which was agreed by all stakeholders: the majority of producers will form a cooperative and operate with a low-emission facility ("zero-coal factory") that will be built on municipal land. The remaining producers will take extensive measures to increase efficiency of their ovens (e.g. refurbishment) in order to minimise pollution.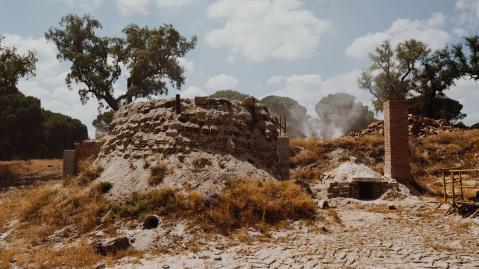 Traditional charcoal production in Coruche, Portugal. Source: Câmara Municipal de Coruche.
How to take it to the next level?
Many more illustrations of the kind of impact that a project like BEACON could reach can be found in BEACON's report "From Ideas to Action: supporting municipalities, schools and national governments in the transition to climate neutrality". What does it take to scale this up? Whilst supporting individual municipalities in important to create local champions that demonstrate what can be done in a country-specific regulatory context, relying solely on this would make us miss the European 2030 and 2050 climate targets. Here are our top five recommendations:
To reach climate neutrality, scaling up of activities and projects initiated in BEACON is needed by establishing support structures. Municipalities and schools should get the strategical and technical knowledge they need to design, develop and finance their projects, e.g. through institutionalised advisory facilities. An important aspect is also to help build project development skills in municipal administrations.
Municipalities need capacities to set climate targets, develop ambitious strategies and monitor its implementation in line with national targets and strategies. Frameworks need to be created where not yet available to provide incentives for creating dedicated positions such as climate action managers or teams in the local administration to be able to mainstream climate action.
Effective collaboration platforms between relevant national ministries and across governance levels need to be provided. Institutionalised communication channels on climate change mitigation topics are still direly needed to address the current lack of consistency – and partly ambition – across policy levels.
No implementation without financing – national and EU funding needs to reach the local level. Capacity building on how to access available funding, in particular in view of the substantial Green Recovery funding, need to be provided. Facilitating the diversification of financing sources should be part of this exercise.
Shape the next generation of skilled professionals. In a world that will look very differently in only a few decades if not years, it is paramount to teach relevant knowledge on climate change and climate change mitigation to pupils and young professionals now.