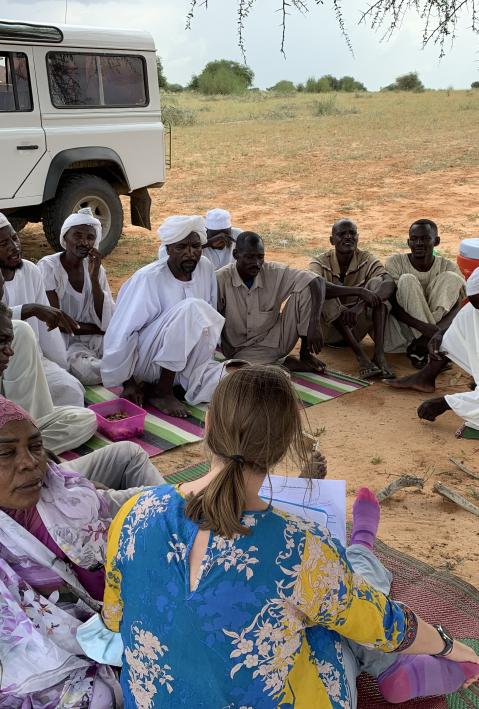 News text / Meta description
In late October, a few weeks before the coup by the Sudanese military and protests on the streets, adelphi's Senior Advisor Lukas Rüttinger was in the East African country. In this interview, he talks about his work and the conditions on the ground.
Sudan's General Abdel Fattah al-Burhan declared a state of emergency in the country on 25 October 2021. Previously, he had dismissed the members of the interim government, including the head of government Abdalla Hamdok. Demonstrators then marched through the streets and protested against the coup. Gun battles have been reported in the capital city, Khartoum.
The project "Climate Change and Security" aims to examine the destabilising consequences of climate change in fragile situations and develop new ways to reduce climate-related security risks. The project was initiated by the UN Environment Program (UNEP) and the European Union.
adelphi is providing support for the project: in Sudan, the think tank is working with the international development organisation Practical Action. The focus of this work lies in cooperation with communities in the region to develop permanent, local solutions for agriculture, water and waste management, climate resilience and clean energy.
You were recently in Sudan. Why?
Lukas Rüttinger: The reason for our trip was the final monitoring and evaluation of our project, which will end in February 2022. We went to Sudan to see what worked and what didn't. We held talks with our project partners, the population and government representatives about the project itself and the next steps in the cooperation.
Is it safe to work in Sudan at the moment?
Lukas Rüttinger: The security situation in Sudan was already tense and volatile. The situation has worsened again since the protests that broke out in late 2018 and the takeover of power by the Transitional Military Council. In the city of El Fasher in the Darfur region, where we were staying, armed groups have increased in activity. The situation in Khartoum was also tense due to protests. It's really depressing to see all of this on location. Especially given that the new interim government was very open to us beforehand. There was also a spirit of optimism among our project partners, a hope that things would soon change.
How did you protect yourselves?
Lukas Rüttinger: Armed groups had set up checkpoints just outside the UN peacekeeping camp in El Fasher. So you couldn't avoid it. In Khartoum, we stopped moving about during the protests as per the instructions of the UN. We also avoided the parts of the city where protests regularly take place. We are subject to UN safety regulations there, which are relatively strict. In Darfur, for example, we had to wait a few days before the UN gave us permission to go into the field.
Where were you staying in El Fasher?
Lukas Rüttinger: In peace mission camps run by UNAMID, the hybrid deployment of the African Union and the UN in Darfur. We lived in rented bungalows.
Did you feel safe?
Lukas Rüttinger: Let's put it this way: I didn't feel directly threatened. Of course, it's always difficult to assess the situation properly. We trust our project partners from Practical Action. They work on site every day and have very good networks and information on whether and when you can travel freely, for example. But you can never rule out that something will happen, of course.
In the office of the international development organisation Practical Action
Do you think the security situation will get worse?
Lukas Rüttinger: I think we'll have to wait and see. Many international observers say that the military leadership has little chance of continuing as is. In the worst case scenario, the situation would escalate. Another important aspect is the Juba Agreement for Peace in Sudan, signed by the transitional government and the alliance of several rebel groups, which provides for democratic elections at the end of the transition. Should this be terminated, we will see more military conflict.
What impact did your project have?
Lukas Rüttinger: When we started back then, more than five years ago, there were hardly any projects that directly addressed the nexus of climate change and security in Sudan or other countries. In this way, our work was a pilot project. We've tried to deal with specific climate and security risks by incorporating climate change adaptation and peace development. Here, we've mainly focussed on local conflicts over natural resources. In Sudan, there are frequent conflicts over land and water, particularly between nomadic or semi-nomadic pastoralists (cattle breeders) and sedentary farmers.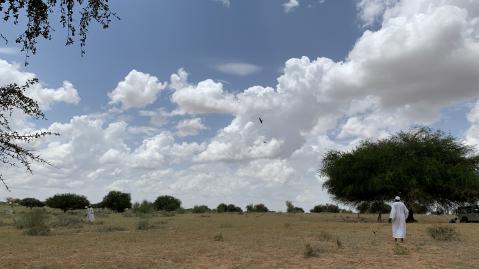 In Sudan, clashes between sedentary farmers and itinerant pastoralists are frequent.
What did you do exactly?
Lukas Rüttinger: At the local level, we set up committees for the management of natural resources and peacebuilding in the communities. We also ran training sessions in conflict mediation and resolution. We supplemented this with actions aimed at diversifying livelihoods towards more sustainable and resilient agriculture, such as the introduction of resilient seeds. Since then, we've noticed that locals are increasingly approaching conflicts with preventative tactics. In the past, arguments between wandering shepherds and farmers tended to break out in violence.
How does a committee resolve such a case?
Lukas Rüttinger: It depends. Often, the committee begins with an information visit to the conflict parties to find out what exactly happened and who is to blame. By way of example: One night a pastoralist's animal escaped and was attacking a farmer's field. A neighbouring village was blamed. But it quickly turned out that the animal belonged to someone else. The committee approached that person and asked for compensation. In the meantime, the farmer was so satisfied with the process and the person's admission of guilt that they agreed on a much lower sum – and the conflict was quickly resolved.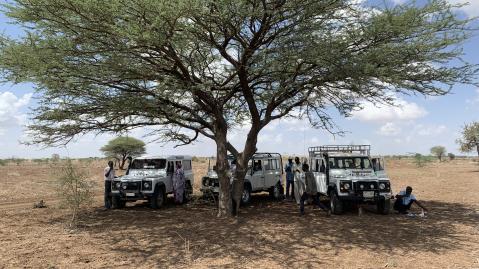 Parking off-road vehicles under a baobab tree
What didn't work so well?
Lukas Rüttinger: Unfortunately, women are an outcast majority in Sudan, especially when it comes to natural resource management, economic activities and decision-making in general. We tried to integrate women into these processes. In some cases this was successful, for example in the area of economic empowerment. We also made sure that women were represented in the formation of committees. We were less successful with the participation of women in conflict-resolution processes. Traditionally in Sudan this is a man's business. We will focus more on this aspect next time, knowing that it will be a long process of social change.
Do you know if and when you will return to Sudan?
Lukas Rüttinger: I will probably be there again next year as part of a different project, also because the issue of climate change and security in Sudan is increasingly of concern to the UN.
Thank you for the interview!