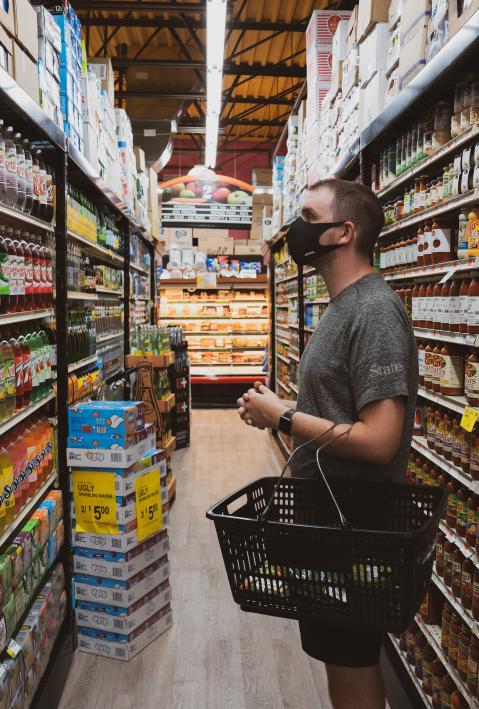 News text / Meta description
Most consumers are still unaware of how their consumption relates to the global decline in biodiversity. A new online communication toolkit, which adelphi helped develop, will change the global conversation about biodiversity.
When shopping in a store or online, people rarely consider how their consumption contributes to biodiversity loss. It would be helpful to have at least an overview of the issue. After all, this is a global challenge that affects everyone equally. In order to stop the loss of biodiversity and ecosystem services due to unsustainable consumption, we must take action quickly and communicate in a targeted manner. A new online communication toolkit about biodiversity and consumption aims to help raise awareness of the devastating effects of conventional consumption patterns on nature.
The Biodiversity Communication Toolkit is aimed at creating a paradigm shift: it intends to encourage changes in consumer behaviour, business practices and policies towards more sustainable, environmentally friendly solutions. The kit includes various tools to effectively communicate about the impact of consumer behaviour on biodiversity. "The connection between biodiversity and consumption is still a niche topic in the socio-political discussion. And as far as communication for consumers is concerned, we are still in the starting blocks. Now we want to change that and move forward with intention," says Jan Christian Polanía Giese, Senior Manager and Head of the Sustainable Consumption Team at adelphi.
We all can be biodiversity heroes
"We want to create a global understanding and consistent narrative for communication about the connections between consumption and biodiversity," adds Julia Olliges, adelphi consultant for sustainable lifestyles. Organised into three sections ("Get informed!", "Get inspired!" and "Get going!"), the toolkit provides interesting information in English. A virtual library contains infographics with everyday tips for consumers and briefing documents with clear recommendations for decision-makers in politics and business.
It also includes background information and studies on sustainable consumption, a communication guide to avoid common mistakes when talking about consumption and biodiversity, and best practice examples from high-profile campaigns. "For us, the toolkit is about the 'how'. We don't just want to describe the problems, we also want to give key players concrete solutions to make consumers more aware of a complex topic," adds adelphi analyst Ulrike Knörzer, who carried out a communications analysis for the project.
Among the highlights of the kit are the visually appealing infographics. They illustrate so-called "hot topics" – intensive agriculture, the fashion industry, forestry, tourism, information and communication technology – and give consumers simple recommendations for everyday life that can have a big impact. People learn how they can become a biodiversity hero.
Global teamwork for the paradigm shift
The toolkit was developed as part of the project "Working together for environmentally friendly consumption through information, communication and international cooperation" in close collaboration with the international One Planet Network of the United Nations Environment Programme. The project received supported by the Federal Agency for Nature Conservation (BfN) and the Federal Ministry for the Environment (BMUV).
To learn more about the Biodiversity Online Communication Toolkit, visit the website.
Contact: polania

adelphi [dot] de (Jan Christian Polanía Giese) and olliges

adelphi [dot] de (Julia Olliges)