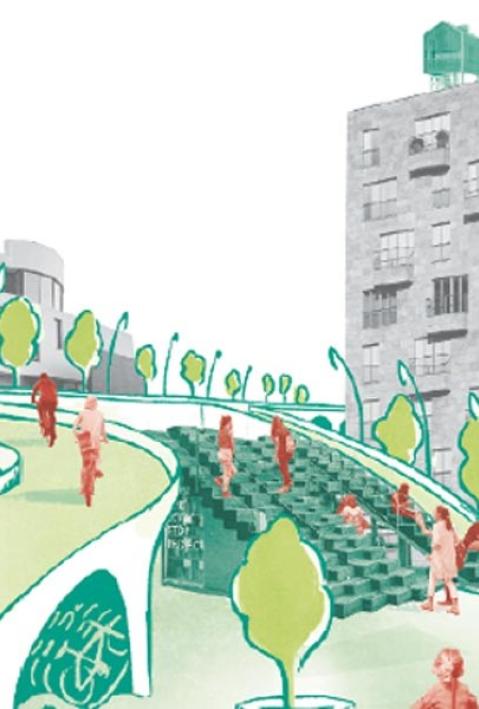 News text / Meta description
adelphi and the Alfred Herrhausen Society invite you to the presentation of our study "Sense the City", taking place on 18 November. The authors of the study, Franziska Schreiber and Alexander Carius, will discuss urban futures with renowned guests.
What does the city of the future look, sound and smell like? How does it feel? Sense the City aims to explore and make visible ideas about and wishes for the city of the future via the sensory level. To this end, the project developed visions of the city of the future with some 400 citizens and experts from various disciplines, including architecture, psychology, philosophy, sociology, music and literature. The results will be published as a study on 18 November at 6 p.m. adelphi and the Alfred Herrhausen Society invite you to discuss successful socio-ecological transformation with the authors and renowned guests.
Event details
The event will be held online on Zoom. The event will discuss the following questions:
How do we develop bold visions of the future with and for city dwellers?
How do we organise a future discourse in which everyone can participate?
How do we make cities healthier, more natural, livelier and more communal?
How do we build, finance and organize cities in a sustainable and climate-neutral way?
The Panel
The following experts will participate in the online event:
Prof. Dr. Dirk Messner
President, Federal Environment Agency
Dr. Jasmin Jossin
Research Associate, Project Manager "Urban Xtopien", German Institute of Urban Affairs
Prof. Dr. Harald Heinrichs
Professor of Sustainability and Politics, Leuphana University of Lüneburg
Franziska Schreiber
Research Associate, Institute of Urban Planning and Design, University of Stuttgart and Senior Associate at adelphi
Alexander Carius
Founder and Managing Director, adelphi
Moderator
Elisabeth Mansfeld, Programme Manager Cities, Alfred Herrhausen Society
The Authors on the Study
"Sense the City" uses the senses to search for the future of cities and create new spaces for thinking and feeling. We worked out our futures in vision workshops in 20 cities with people from different backgrounds and with experts from various disciplines. We sifted through their ideas and visions, evaluated, put together, developed, illustrated and sketched concrete utopias that break new ground in urban design and urban life. The stories about the city of the future are meant to inspire, provoke, raise questions and invite people to participate, imitate and scale.