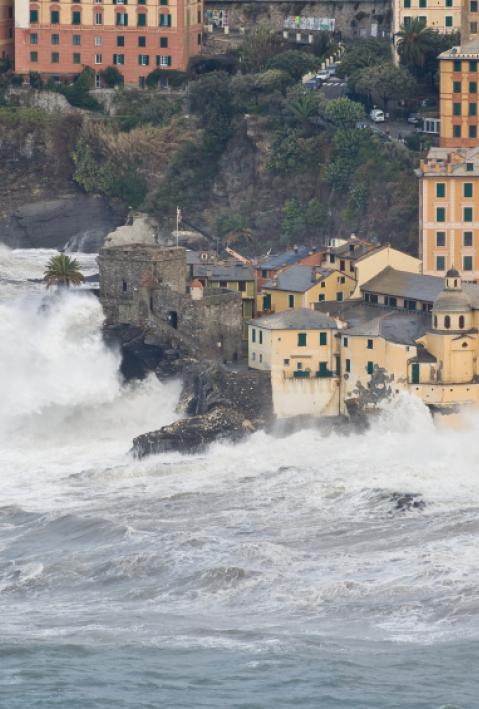 News text / Meta description
The Weathering Risk methodology combines state-of-the art qualitative and quantitative analysis to create detailed scenario plans and identify entry points for addressing instability caused by the climate crisis.
Climate change reverses progress towards sustainable development and peace, posing risks to human security and making peace harder to achieve. There are slow onset changes such as temperature rise, ocean acidification and changes in precipitation patterns, as well as fast onset events such as storms and floods. Both can have an effect on economic and political security, and on the security of a particular community's food, health and environment.
A complex global emergency
The climate crisis affects the ability to achieve the Sustainable Development Goals, which are the blueprint to achieve a better and more sustainable future for all. The UN and its partners have identified the climate crisis as a global emergency that goes beyond national borders. In the last decade, many countries have initiated new programmes, initiatives, and institutions focused on how climate change erodes resilience, especially in fragile countries. There have been several UN Security Council debates on the issue, and the establishment of the Climate Security Mechanism in 2018 increased the UN's institutional capacity to deal with climate-related security risks.
Policy- and decision-makers in multiple sectors, especially development, diplomacy and defence, have sought ways to predict and respond to these impacts. However, in order to do so effectively and sustainably, the complexity of different factors and interactions has to be unpacked into a more granular understanding of the relationship between environmental change and insecurity in a given context. For awareness of the risks to be converted into action that improves lives, concrete entry points need to be identified.
This is where Weathering Risk comes in
Led by adelphi and the Potsdam Institute for Climate Impact Research, Weathering Risk is developing a scalable risk assessment approach to identify and respond to climate and security risks. Working hand in hand with key partners across policy and practice, our goal is to enable more effective responses that can weather the risks posed by climate change to sustainable development and peace. The endgame is to enable peaceful and equitable development, ensuring that no one is left behind in the face of a changing climate.
The Weathering Risk approach consists of five steps:
Climate impact analysis
Analysis of climate-related security risks
Foresight and scenario planning, including consultations with experts
Machine Learning to test and validate assumptions
Identification of 'no regrets' responses for policy- and decision-makers
Find our more in the Weathering Risk methodology paper.
Partners and board
Guided by a strategic advisory board of 11 leading figures in development, environmental, foreign and security policy, Weathering Risk responds to an urgent need for locally informed climate risk assessments that provide sustainable entry points for policy- and decision-makers.
Find out more on the new Weathering Risk website.
Contact person: vivekananda

adelphi [dot] de (Janani Vivekananda)